Technical Support
Technical Support is available for this toolset and other SEO site management software applications. We design, develop, and implement custom online software solutions, employing industry-standard systems architecture with high-performance operating environments to create a unique online presence for your site. Experienced internet engineers combine both technical skills with extensive knowledge of the internet to deliver comprehensive, high-quality solutions that are designed to meet your needs in the dynamic online world.
Support Services
Online Response
Your questions are answered by email and instant messenger. Hourly and monthly contracts are available.
Telephone Support
Speak live by telephone with a software engineer for installation and configuration support. Hourly and monthly rates are available.
Software Customization
Add new features and integrate this SEO sitemap optimization toolset with other site management applications. Project quotes and hourly rates are available.
Site Development
Develop your site with customized design and interactive features. Project quotes and hourly rates are available.
Hourly
Rate
Monthly
Rate *
Online Response
$ 25.00
$ 20.00
Telephone Support
60.00
50.00
Software Customization
75.00
60.00
Site Development
75.00
60.00
* Based on 100 hours per month.
This SEO sitemap optimization toolset is an open source project that is freely available for use in web server site management. Donations are welcomed for continued development of this project through the project page on SourceForge.net or through our web site. Please show your support for this open source project by visiting the sponsor links displayed on this page.

File name:
onsite-0.91.tar.gz
File size:
18kb compressed
System Requirements:
Mozilla 4.0 Compatible
Web Browser
UNIX / FreeBSD / Linux Web Server - PHP 4.3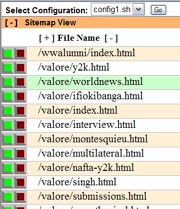 Contents
Hosted By

Links

Renewable energy products for the home, the office, or on the road