The Voyage of the Short Serpent
by Bernard du Bucheron, translation by Hester Velmans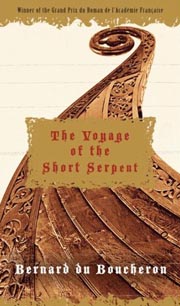 Bernard du Bucheron creates a magical land with characters who come alive in The Voyage of the Short Serpent, a story about truth, obsession, and the myth of utopia. Written in a jubilant mock-archaic French, Court Serpent by Bernard du Bucheron won the Grand Prix of the Academie Francaise for this highly original story set in a fourteenth century colony subsisting on a frozen Greenland outpost.
After communications with the Greenland colony are lost, a ship named the "Short Serpent" is launched with an abbot at its helm to reestablish contact and to revive the inhabitants' faith. To their horror, the colony's inhabitants are discovered to have reverted to a very primitive way of life exhibiting excesses of filth and depravity to which the crew of the "Short Serpent" begin to succumb.
His writing style is described as elegant, compulsive, and increasingly unhinged, in creating a masterpiece about human morality in inhuman conditions. While the language and style make this book a memorable read, The Voyage of the Short Serpent was also a challenge to translate. The author praises the English edition translated by Hester Velmans :
" Court Serpent was lucky to find a translator of such expertise that a rather difficult text, written in mock-archaic French, and laden with a whole cargo of technical terms, was beautifully rendered in equally mock-archaic and technical English. "
Order this book from amazon.com

About the Author

Hester Velmans is well known for her translations from Dutch into English of works by Renate Dorrestein, Lulu Wang, Isabel Hoving, and Jacqueline van Maarsen. Velmans was awarded the Vondel Prize for Translation for Renate Dorrestein's A Heart of Stone and her translation from French into English of Bernard du Bucheron's award-winning The Voyage of the Short Serpent has attracted great attention. Velmans' first sole creation, Isabel of the Whales, is a book written for children with the idea of empowering young girls and boys to influence the natural world. It is followed by Jessaloup's Song which reunites the two principal characters in a second ecological fantasy adventure.