Introduction to Chinese-English Translation
by Lynette Sze (Xiaojing Shi) and Zinan Ye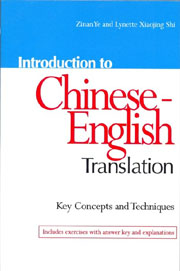 Written in collaboration with Zinan Ye, a colleague at the Monterey Institute of International Studies, Introduction to Chinese-English Translation covers all of the necessary tools to improve translation skills and discusses the principles of translation between these two languages. This is the first book of its kind to be published in the United States providing a comprehensive, hands-on guide for experienced translators as well as students entering the field.
The book begins with a discussion of the primary issues in the field of translation, while introducing ten essential skills together with practical examples. The following chapters address specific grammatical and language style concepts like metaphors, idioms, and text analysis. Translation strategies are analyzed and discussed in detail with six practice texts and sample translations.
Order this book from amazon.com

About the Author

Lynette Xiaojing Shi is a translator and interpreter with 30 years experience teaching at the University of Hawaii and the Monterey Institute of International Studies, where she is an Associate Professor in the Graduate School of Translation and Interpretation. In addition to her work as a translator at the Unted Nations, Lynette has translated the classic Chinese novel Camel Xiangzi and has consulted on Chinese-English dictionaries published in China. Lynette Sze first translated the classic masterpiece Camel Xiangzi by Lao She in 1978, and was asked to review the translation and translate two final chapters for a new bilingual edition in 2001. She also performs translations for many private and public organizations.