Le Ton Beau de Marot
by Douglas Hofstadter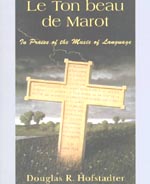 Douglas Hofstadter offers an excellent look at the issues involved in translation in Le Ton Beau de Marot: In praise of the music of language. This book takes as its point of departure the translation of a poem by Clement Marot, and goes on to delve into creativity, art, and everything. Poetic translation is the soul of this book, and Hofstadter subscribes to the school of translation believing that the medium and the message are equally important.
Le Ton Beau de Marot book was inspired by the author's attempts to translate a short poem by an obscure French Renaissance poet named Clement Marot. Hofstadter, after tackling this challenge himself, sent out a letter to many friends challenging them to translate it as well. Most of this book elucidates discussions of some of the dilemmas of literary translation, with examples drawn from various literary works. Among Hofstadter's favorite examples is Alexander Pushkin's quintessential Russian novel in verse, Eugene Onegin.
Order this book from amazon.com

About the Author

Widely respected as one of the world's great thinkers, Douglas Hofstadter is known by his contemporaries as a warm, witty, and engaging fellow. His many credentials include: Ph.D. in physics, University of Oregon, 1975; Pulitzer Prize (General Nonfiction category), 1980, American Book Award (Science Hardback category), 1980, for Gödel, Escher, Bach: an Eternal Golden Braid; Guggenheim Fellow, 1980-81. Fans of Le Ton beau de Marot will be delighted to see his meticulous theories of translation put into practice in his English language translation of Alexander Pushkin's novel-in-verse: Eugene Onegin