Living Networks
by Ross Dawson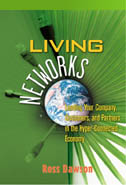 In Living Networks, Dawson shows how to lead organizations that leverage living networks as the most powerful source of new business value. He demonstrates how to use living networks to deepen relationships with customers and partners, promote "distributed innovation," and accelerate the creation of profitable new products and services. Finally, he shows how individuals can plug into living networks to liberate themselves from conventional organizations, earn more money, and achieve greater personal satisfaction.
This collection of practical studies describes how to create value for clients with information and knowledge and how to develop profitable and enduring client and customer relationships in the knowledge economy.
It covers the practical challenges and difficulties faced by professional services organizations in applying knowledge management principles, while offering a meticulous analysis of the critical factors which define successful business relationships. "A must read for all whose survival hinges on their ability to successfully convert transaction-based interactions into comprehensive long-term partnerships with their clients."
Order this book from amazon.com

About the Author

Ross Dawson is the author of two books and numerous articles published in major business publications which focus on the evolving role of knowledge in business. He leads an international consulting firm that works with leading organizations to enhance their strategic and client relationship capabilities in the connected economy.