Clinical Skills for OSCEs
by Neel Burton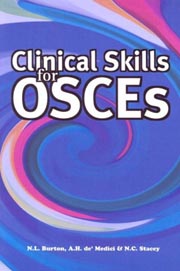 Objective Structured Clinical Examinations (OSCEs) are structured as real-time exercises during which the examiners ask questions that require immediate responses. As such, preparations for these examinations involve considerable rehearsal and drills in order that the answers are readily available when they are needed. Clinical Skills for OSCEs uses a systems-based approach to cover all of the clinical skills that are likely to be tested, including a total of 110 scenarios which involve the practical understanding of history taking, examination, and medical procedures.
Clinical Skills for OSCEs is a comprehensive study guide to prepare for the examinations, with scenarios contributed by current medical students and recent graduates. Each of the scenarios covered in this book contains an introductory statement of the task for that station, followed by a brief overview with tips, and a step-by-step guide of how to carry out the station. Instead of attempting to teach candidates medicine or surgery, this guide gathers and organises a large amount of information and presents it in a structured and memorable fashion.
Candidates for the examinations benefit from the vast amount of information compiled in a single resource guide that is easy to read and to the point, together with valuable boxes of additional background information relating to each testing station. From cranial exams and hearing tests to psychiatric assessments and basic life support, all of the necessary proficiencies are detailed. Since these exams require demonstrable skills, Clinical Skills for OSCEs gives those preparing for them step-by-step profiles of the capabilities needed for success.
Order this book from amazon.com

About the Author

As a physician and author, Dr. Neel Burton emphasizes important areas of medical science that address the very essence of what it is to be human. His acclaimed book, Psychiatry emphasizes values-based practices that form an important part of medical training, where doctors require an understanding of their own psychological, cultural, and spiritual assumptions in order to practice in a multicultural society.