Master your Mind
by Neel Burton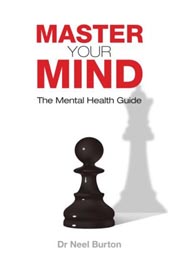 Master Your Mind is written for individuals who are contending with a mental disorder. It provides a practical guide to identifying specific mental disorders along with their diagnoses and available treatments. Friends, family, and carers of those suffering from mental illness will also benefit from the information presented in this book.
This book is designed to alleviate the fears and feelings of isolation that are often associated with mental illness and to enable suffers to better manage their condition. It provides advice for seeking treatment and services that are available from medical professionals and advice for patients to gain greater control over their illness.
Master Your Mind covers five main aspects for treating mental disorders: a thorough description of mental disorders and their diagnosis; techniques for mastering your mind through your mind; techniques for mastering your mind through your body; psychological and physical treatments; and, mental health care services and the law.
Neel Burton emphasises that the best approach for treating mental disorders is the active involvement of the individual patient in the treatment process. It recommends specific methods for patients to cope with stigma and to build self-esteem, while managing stress and anxiety. It covers the types of available therapies and medications while advising patients on fighting depression and preventing relapses, with the aim of improving the chances for leading a healthy, productive, and fulfilling life.
Order this book from amazon.com

About the Author

As a physician and author, Dr. Neel Burton emphasizes important areas of medical science that address the very essence of what it is to be human. His acclaimed book, Psychiatry emphasizes values-based practices that form an important part of medical training, where doctors require an understanding of their own psychological, cultural, and spiritual assumptions in order to practice in a multicultural society.