The Meaning of Madness
by Neel Burton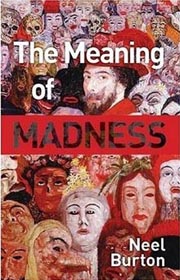 Neel Burton breaks new ground writing in the field of psychiatry by representing mental disorders in the context of literary, philosophical, and scientific sources. The Meaning of Madness provides a highly readable and authoritative account of mental health issues, one that demonstrates the connections between madness and human nature.
While mental illness is commonly portrayed in a negative light, The Meaning of Madness examines adaptive or evolutionary advantages that might be exhibited by different types of disorders, by evaluating these disorders from a more positive perspective. This approach is a clear departure from the often polemical or over-technical material covered by other books on this subject.
The Meaning of Madness helps to define the boundaries between mental disorder and normality by reaching beyond science to consider the mind's relationship with language, art, religion, and culture. It covers a broad range of conditions including: personality and identity, schizophrenia, depression, psychosis, manic depression, anxiety, and suicide.
The complexities of human nature that distinguish us from other animals offer intriguing insights into the workings of the mind. This book considers the peaks and valleys of human behaviour with a style that is at once accessible to the generalist reader and by the same token stimulates the medical professional to delve further into the world of mental health.
Order this book from amazon.com

About the Author

As a physician and author, Dr. Neel Burton emphasizes important areas of medical science that address the very essence of what it is to be human. His acclaimed book, Psychiatry emphasizes values-based practices that form an important part of medical training, where doctors require an understanding of their own psychological, cultural, and spiritual assumptions in order to practice in a multicultural society.