The Art of Failure: The Anti Self-Help Guide
by Neel Burton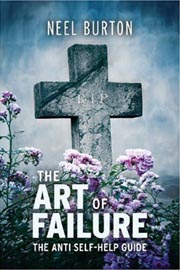 In The Art of Failure - The Anti Self-Help Guide, Neel Burton examines the relationship between the modern concepts of success and failure. This book explores what it means to be successful and, if indeed it is within the realm of possibility, how true success can be achieved.
As the book title suggests, common perceptions of success are turned on their head. Burton argues that we spend most of our time and energy chasing success, such that we have little left over for thinking and feeling, being and relating. As a result, we fail in the deepest possible way. We fail as human beings.
A wide range of relevant topics is covered which relate to the preoccupation with chasing personal success. The book begins with a definition of the mania under discussion and proceeds to consider the concepts of freedom, fear, courage, and values in this pursuit. The deeper meanings of death, ghosts, and madness are also examined. It concludes with a positive view of the influence of happiness, friendship, and truth for achieving more healthy objectives in life.
Order this book from amazon.com

About the Author

As a physician and author, Dr. Neel Burton emphasizes important areas of medical science that address the very essence of what it is to be human. His acclaimed book, Psychiatry emphasizes values-based practices that form an important part of medical training, where doctors require an understanding of their own psychological, cultural, and spiritual assumptions in order to practice in a multicultural society.